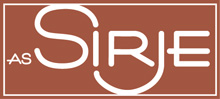 Sirje AS was founded in 1992.
Our company employs about 50 people.
We manufacture pine, birch, oak and spruce wood products for export. Our product range includes brackets, various wooden interior design elements,  turned stair details, veranda posts and terrace balustrade parts. We have nearly three hundred different articles in production. We process our products ourselves from cutting the logs to the final finishing. We own a small sawmill and dry the wood ourselves. Over the years we have become a competent and experienced team.
We buy logs and timber.
95% of our products are marketed in Sweden, 3% in Finland and 2% in Estonia.